Pointstreak K-ForCE allows you to score baseball and softball games play-by-play on your handheld Pocket PC. Print scoresheets and game stats from your desktop PC with viewer program included. *Handheld computer is not included.
Score Play-by-Play


One tap scoring allows you to score the most frequent plays with ease. Score a walk, and the runner on first is automatically advanced. Score a home run, and all runners advance to home and the batter is credited with the correct number of RBIs.



Multiple Teams


Track stats for a single team, multiple teams, or a whole league. There is no limit on the number of teams or players you can track.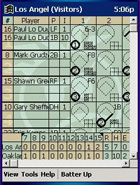 Scoring Features


Our baseball scoring software is based on a paper scoresheet so you'll quickly learn how to score on your Pocket PC including:
Hit Location
Pitch Count
Substitutions
Score strikes as Foul, Called, or Swinging
RBIs and Earned Runs

Designated Hitter
Fielder's Choice
Auto Advance of Base Runners
At Bat Comments
Game Comments

Please note Pointstreak K-ForCE is not compatible with Palm, Blackberry, or iPhone. Your device must be running Windows Mobile and use a stylus. Here's a link to more details on device minimum system requirements



Save & Print Games


Save games for future reference on your device. You can also print score sheets from your regular PC using the desktop viewer program included with K-ForCE.



StatTrak Combo


If you're looking for more robust reporting options, consider StatTrak Combo. The combo includes Pointstreak K-ForCE and StatTrak for Baseball & Softball. Import games you've scored on K-ForCE into StatTrak and you'll have many more reporting options plus a free stats website. StatTrak for Baseball & Softball runs on your regular desktop PC.
"I just finished using your software for Fall Ball. After a couple games it became easy to use and allowed me to keep my eye on the game more than I did with a scorebook. I am happy with the software and the coaches love the stats and I look forward to using it this spring." - B. Kelly, AZ
"I will be using the program for the first time at tonight's season opener in Toronto with Boston visiting. It is a great product ... thanks for the effort and sharing it. Play Ball!" - D. Mathers, ON Canada

5 Reasons to Buy Now

It's easier than scoring on paper!


Download immediately after you checkout


Receive the CD-ROM too


Free technical support


Money back guarantee


Add K-ForCE to your shopping cart now

or download our free trial software and see for yourself just how easy to use our baseball scoring software is. Plus, you can always receive free technical support.

Still have questions?


You may find your answer in our list of Frequently Asked Questions.

You can also email your questions to sales@allprosoftware.com
More Features in Pointstreak K-ForCE
One Tap Scoring
Many of the most often occurring plays are a single screen tap away. From the scoring field, tap the number '9' located in right field and an out is scored 'F9' indicating a 'Fly ball to right field'. If the batter hits a home run, tap the line between 3rd and home and the other lines (home to 1st, 1st to 2nd & 2nd to 3rd) are filled in. Also, all runners on base are advanced to home and the hitter is scored with the appropriate number of RBIs.

Retained Team Information
You will only ever need to type in a batter's name and number in once. After that, select the player from a popup list. Next game you score, select the team from a list, then enter the batting order from the players names and numbers retained from earlier games.

Auto Advancing of Base Runners
When the batter hits a grand slam, just score it as a home run and K-ForCE will take care of the rest. All the base runners are advanced; and four RBIs are credited to the batter.

Drag and Drop Base Runner Advance
With a runner on first, the batter hits a single. Score the single, K-ForCE automatically advances the runner to second base. But if the runner stretches it to third, just drag the box (representing the runner at second base) over to third. You can even drag him back again if the ump indicates that the play was over and sends him back.

Free Form Scoring
K-ForCE does not force you into a specific scoring style. And it does not insist that everything be scored. If you miss the first inning, that's OK with K-ForCE. It will do the best it can to provide correct totals given the information it has; but feel free to score only two outs in an inning if you decided to go for some nachos.

Import to StatTrak for Baseball
K-ForCE games can be easily imported into StatTrak for Baseball. Game info, Roster, Batting, Pitching, and Fielding statistics can be quickly loaded into StatTrak for additional analysis or Internet Publishing!
Scoreboard
A scoreboard is maintained and updated with runs, hits and errors, with an inning by inning total of runs.

Designated Hitter/Non Hitting Pitcher
When a designated hitter is used, pitcher information is kept separate from batter information. Or if you prefer, enter the pitcher information after the 9th batter.

Quick Undo
Undo scoring as easily as you scored it.

Box Score
Two different views of the box score information and the ability to copy the information to the clipboard for pasting into Pocket Excel.

Batter Summary
A batter's previous at bats are summarized for quick reference. This is very useful if you're the coach and an intentional walk situation presents itself.

Cut & Paste
If you put a player into the wrong position in the lineup - cut & paste them into the correct place.
Want more details? Click here to view screen images of Pointstreak K-ForCE. Our baseball scoring software makes game time scoring easy. "Keep Your Eye on the Game Instead of Your Scorebook" - Whether you're the official score keeper, or scoring just for fun, use Pointstreak K-ForCE to score play by play with less effort than paper scoring.
"Thank you so much. I think the combo package of K-ForCE &
StatTrak for Baseball is outstanding. Makes for statistics as well coaching/planning a much easier job. Thanks again. - E. Miller, IN"