Our address book software is very easy to use. It's a simple, straight forward program that allows you to store addresses and print labels, envelopes, postcards, address books, and more.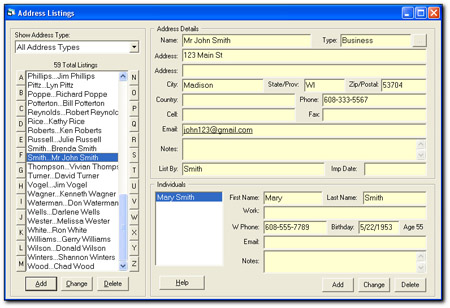 Easy Address Entry


All entries are listed alphabetically. Easily add new names, addresses, phone numbers, emails, notes, and birthdays.

Address Types


Organize addresses together by types to categorize family, friends and business contacts separately. Even create your own custom address types.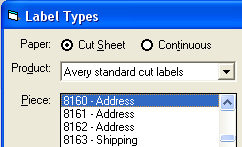 Label Types


Choose your label size from hundreds of standard Avery mailing and shipping labels including Avery 8160, 5160, 5163, 5164, and many more. Select your label format and your addresses are automatically aligned and ready to print.



Envelope Types


Choose from dozens of different standard envelope sizes including #10 business size, personal stationary size - plus an option to enter in a custom size to accommodate your special envelopes for invitations, cards, or any unique size. Select your envelope size and your addresses are automatically aligned and ready to print.
Absolutely perfect for sending your Holiday cards!
"I love this new program. It is wonderful and so easy to use. I needed an easy way to keep track of and update my address information and to be able to print labels for big events like Christmas. This is exactly what I was looking for, a simple program that was not cluttered full of options I know I would never use." - J. Remling, WI
Read more testimonials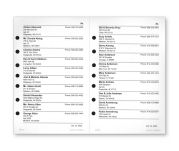 Address Book Reports


Print a personal address book, church directory, or phone book listing. Print reports on regular paper (8.5 x 11) or in smaller sizes for your Day Timer, Franklin Covey, or other personal day planner. We have planner paper for your printer available in 2 sizes: Planner (5.5 x 8.5) and Portable (3.75 x 6.75).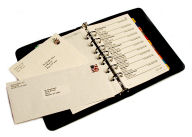 5 Reasons to try Address Manager

It's easy to use


Download immediately after you checkout


Receive the CD-ROM too


Free technical support


Money back guarantee


Add StatTrak Address Manager to your shopping cart now

or download our free trial software and see for yourself just how easy organizing addresses can be. Our address book software is very easy to use. You'll be viewing reports and printing address labels in minutes! Plus, you can always receive free technical support. Our address book software runs on Windows 11/10/8.

More Features in Address Manager
Import Addresses
Stop re-typing! Import addresses from Outlook, and other software programs using a comma delimited file.

Reports
Create reports of any info you've entered. Great for printing your own Address Book or Phone Book for a handy reference next to your phone or for your day planner.

Print Clip Art & Images
Choose from the clip art included or add your own custom image or logo to print on your address labels or envelopes.

Birthdays
Never miss another birthday! View the Birthday Report to see upcoming birthdays and how old someone will be. Option to turn-on reminders to alert you of upcoming birthdays.

Families
Keep all family member names together under one address. You'll never have to wonder what their kids' names are again (or how to spell them!)

Notes
There's even a place to keep your personal notes. Enter donation records, directions to the house, best time to call,time zones, dinner preferences.

Return Address
Save a step and have your return address automatically printed on envelopes and postcards.

Change Address Placement
This is a nice option if you have custom address labels with a logo or picture. You can re-position where the address prints to accommodate your custom label.

Choose Fields for Labels
If you need to print something other than name and address - no problem.
Any information entered can be selected to print on a label. For example, select name, address, email, and phone to print your rotary cards.

Choose Fields for Reports
Likewise, any information entered can be selected to print on a report including email, cell phone and notes. This flexibility is nice for creating your address book or a church directory, employee directory or membership list.

International
Accepts international post codes, countries and provinces.

Search
Search function will search your address entries and display a list of any entries found that contain your search criteria.

Thousands of Addresses
You can add over 25,000 addresses in our address book software.

Quick Recall
Save time during data entry as previously entered information is automatically recalled based on the characters you've typed in.

Great for Business or Personal Mailings:


Letters
Direct Mail Promotions
Announcements

Holiday Cards
Newsletters
Invitations
Want more details? Click here to view screen images of StatTrak Address Manager. Our address book software makes organizing your addresses easy.
"Just wanted to let you know how impressively easy StatTrak Address Manager software is to load and administer. After working with a different address label software program, this was heaven sent. I was able to load all my addresses in with no trouble. I didn't have to build the template, and then, re-measure time after time to get it right. I just loaded your address software, added addresses, and printed out to the appropriate label. How easy could that be???!!! Thanks again for the superb address software! - B. Drummond, CO"

"I recently purchased the Address Manager software. It is the best I have ever seen. You have great programs, and they are user friendly. Thank you for a very nice software program. - G. Hose, FL"

"Tired of Addressing Envelopes by Hand Year After Year?"

Writing addresses by hand is tedious. And if you have a lot of addresses it's practically impossible. With our address book software, you won't have to hand address anything. So you can spend time on more important matters, like composing the letter you're sending!
"I found the software exceeded my expectations but I am most grateful for the prompt and comprehensive technical support - B. Howe, BC Canada "
Buy Now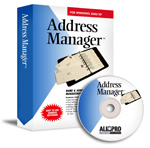 Price $29.95


Looking for Mac version?



Swift Publisher by BeLight Software is compatible with macOS and prints address labels using built in Avery templates. Other desktop publishing options include business cards, envelopes, CD labels, and brochures - Macworld Editors Choice