Our tournament software is an easy to use program that allows you to print tournament charts, schedule game times, and publish results online. This software tool is ideal for leagues and organizations running tournaments.
Tournaments


Create tournament charts and schedules for single elimination, double elimination, Pool Play, Round-Robin, and Consolation. Add teams or players, available locations, and seed your tournament. You can quickly view, edit and print your tournament brackets.



Multiple Events


Each tournament can have multiple events allowing you to organize your tournament by age division or ability.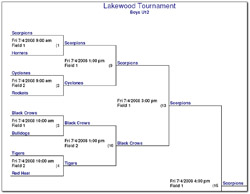 Accurate Charts


Print accurate tournament charts every time with even or odd number of teams. Each bracket can have up to 128 teams or individual players.

Scheduling Tournament Scheduler automatically generates game times - with no conflicts. If you've ever tried to schedule a tournament by hand, you'll appreciate how much time this saves you. Just add dates and location availability and Tournament Scheduler takes care of the rest, assigning a game time to each game across all events. You can even share locations (fields, courts) across events.



Free Website


Publish your tournament brackets and game schedule to your own free website included with your purchase of Tournament Scheduler. Very easy to use publishing function built right into the program. Have participants check the website for their game times instead of calling you! Website includes picture gallery and latest news.
"Just thought I'd let you know that I really like the web publish feature in your new version of All-Pro Tournament Scheduler. Thanks very much!!.......the software made my life SO much easier." - S. Andrew, OK Read more testimonials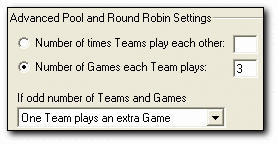 Pool Play & Round-Robin
Assign multiple rounds on your pool play and round robin events. Or enter a specific number of games to be played by each team or player.

5 Reasons to Buy Now

It's easy to use & works for any sport


Download immediately after you checkout


Receive the CD-ROM too


Free technical support


Money back guarantee


Add Tournament Scheduler to your shopping cart now

or download our free trial software and see for yourself just how easy creating tournament brackets can be. Our tournament software is easy to use. Plus, you can always receive free technical support. Our tournament software runs on Windows 10/8.

More Features in Tournament Scheduler
Automated Seeding
Optionally enter seed numbers for teams or players and automatically seed brackets using Advantage, Balanced, or Random seeding methods. You can also manually seed teams.

Winners Automatically Advance
Enter tournament game scores and winners automatically advance to the next tournament bracket.

Reschedule Games
Tournament Scheduler handles rain dates and other delays. You can easily reschedule games even after the tournament has started.

Pool Play & Round-Robin Tournaments
Control the number of games played in the tournament by optionally entering the number of games each team or player plays. Or you can enter the number of rounds each team or player plays.

Tournament Schedule Reports
Easily keep track of location usage with the Master Schedule Report which displays location, event, game date/time and game number across all events of your tournament. Additional reports list schedules by team or player to help teams/players know when their first game is.

Import Team & Player Names
Save yourself some data entry time and import tournament team names, player names, and locations from:

Previous versions of our Tournament Scheduler software
All-Pro League Scheduler software
All-Pro StatTrak software
Comma delimited file from any other software
Quick Bracket Chart
Use the Quick Chart feature to print blank tournament brackets. Just enter the number of teams and print. That's it!

Teams and Individuals
Our tournament software works for team tournaments as well as individual player tournaments - great for any sport including baseball, basketball, volleyball, wrestling, tennis, soccer, hockey, football, kickball, paintball and more.

Import Pictures
Import and print your school logo or other picture right on your tournament chart and have it displayed on your free tournament website too.
WallBoard Size Tournament Brackets
Print your tournament bracket chart on any size paper. Tournament Scheduler is compatible with standard and large format printers including 11 x 17 and larger. Print small tournament brackets on just 1 page of standard paper too.

Conflict Checking
Warns you about any over-lapping game times within the tournament.

Advance Players to Championship Event
View event results from one event and select players to advance on to a play-off or championship event based on their win/loss record.

Full Screen
Optionally display Tournament Scheduler in full screen mode without the tool bar which is handy if you are using a projector with your monitor.

Zoom
Zoom in and out to preview your tournament bracket chart layout.

Help
Convenient help screens in our tournament software are available to assist you through every step of your tournament.
Want more details? Click here to view screen images of Tournament Scheduler. Our tournament software makes creating tournament brackets easy.
"Since I bought the Tournament Scheduler software, you automatically became my best friend for the rest of my life!" - E. Aumond, Quebec
Buy Now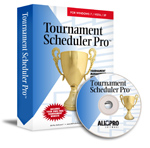 Price $149.95