Sentry Keeper



Free Windows software for reviewing and managing your TeslaCam and Sentry Mode USB drives
Click here to download Sentry Keeper

Click here for detailed instructions

Click here for Revision history

For feature requests and bug reports, please email SentryKeeper@allprosoftware.com

Or check the Tesla Motor Club forums for user astrowunder.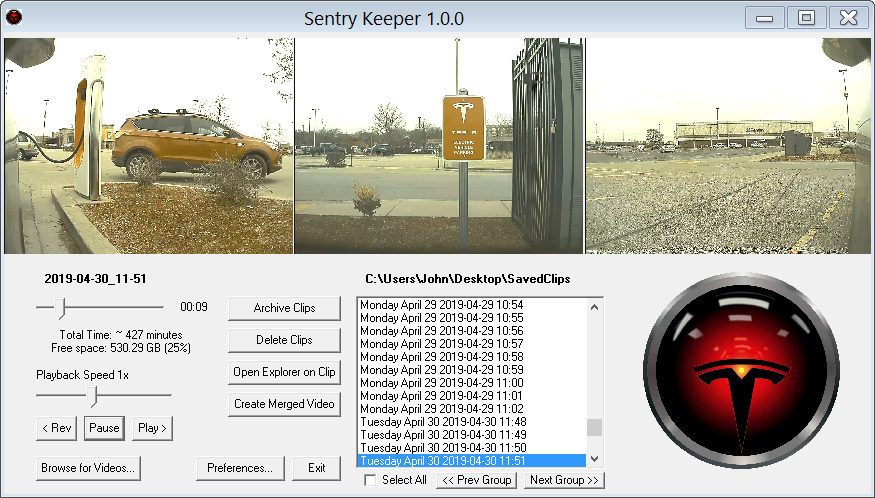 I wrote this program to review my Tesla's Dash cam and Sentry videos and I hope you find this useful as well.
- AstroWunder from the Tesla Motors Club
Instructions
Sentry Keeper allows you to quickly and efficiently manage your Tesla Dashcam and Sentry Mode videos.
After installing and starting the software, Sentry Keeper will search for any USB drives that are inserted in your computer for video files and load them automatically. If you didn't insert your USB drive yet, or have your videos on a removable hard drive or your computer, you may use the browse for videos button to locate them.
Once the videos are loaded, double-click on one of the files that are listed in date order in the central listbox window. The videos will start playing and by default will continue playing the next video after each 1 minute segment is finished.
While the video is playing, you may change the speed of playback from 25% to 8x rate using the playback speed slider
You may also 'scrub' the video- that is you can use the top most slider to move the video to a specific location in the video.
Use the Rev, Pause and Play buttons to move forward and backwards in the current video.
You may archive your videos to a folder on your computer by selecting one or more videos in the list and pressing the Archive Clips button. Note you must first set up the location of your archives in the preferences window.
The Delete clips button will delete one or more selected videos from your computer. NOTE once these are deleted there is no way to 'undo'. The files are gone forever.
The Open Explorer on clip will open windows explorer and point it to the specific file you clicked on. Note this is only available when as single video is selected in the list box.
The Create Merged Video uses Erik Hendrix's fantastic Tesla_Dashcam Video Merging software to merge one or more files into a single continuous mp4 video file ready for posting to your favorite site! (see example image below) You must set up the parameters in the preferences button to use this function. Note: Tesla_Dashcam is installed along with Sentry Keeper. You don't need to install this separately, but you can choose to use a different version if you wish by downloading from Erik's site and changing the options in Sentry Keeper's preferences window.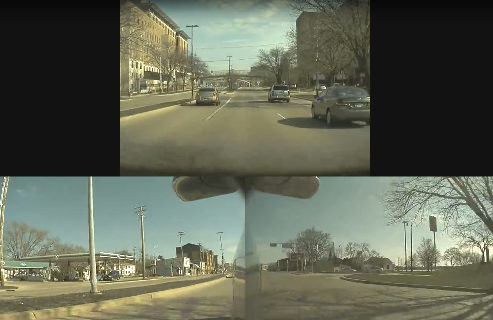 You may skip between video section quickly by using the Prev Group and Next Group buttons. These will each take you to the 1st video of video 'sets' that are at least 5 minutes apart. Thanks to Kirk Nason for this suggestion!
You can zoom in on any single camera while it is running by double-clicking on the video. It will display in full screen mode. To return to the program, double click the video again.
The program will check to see if a new version is available every time it starts. If it finds a new version it will display the New Version Available message. Click on this to close the program and take you to this page where you can download the latest version.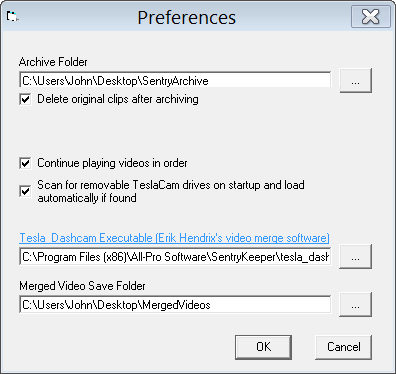 Preferences
The preferences window has configurable settings for Sentry Keeper
The Archive Folder allows you to specify a location where you may quickly save videos to. You can optionally delete the original clips after the files are successfully archived.
The Continue Playing videos in order option causes the videos playlist to continue playing in order unless you manually stop it.
The Scan for removable TeslaCam drives checkbox will automatically look for removable drives and load them on startup if one is loaded in your computer. After the program starts you can still use the Browse for Videos button to find videos in a new location.
The Tesla_Dashcam Executable field allows you to overwrite where Erik Hendrix's software is located if you want to use a newer version that is bundled with Sentry Keeper. I'll try to keep the latest version with my software but I may not always keep up with his updates.
The Merged Video Save Folder is the destination that the Tesla_Dashcam Merged Video files will be stored.
Clicking on any of the buttons with the 3 dots will allow you to locate the corresponding folders or files with a folder finder window.


Mac Version
I'm afraid I am not able to create a Mac version with the programming language I'm using. There is a multi-platform app that lets you review your videos (including on a mac) at this website: https://sentrycam.appspot.com
---
Known Issues
Some clips seem to be corrupted in the car and won't load. You may have one of the 3 videos show blank. This is either a corrupted video, or occasionally the software doesn't load properly. You can check by using the 'open explorer on file' and see if the size of the video is similar to the others. Sometimes it's a lot smaller or 0 bytes- this is corrupted. If it looks ok, try double clicking on that file again in SentryKeeper- if the video isn't corrupted it will probably work right the 2nd time.
---
Revision History
1.0.5 (5/21/19) Fixed problem with new file naming in Tesla firmware 2019.16.x
1.0.4 (5/21/19) Bug fixes, added ability to select all with control-a, more error handling improvements, fixed problem with temp folder not being deleted after program exit, fixed problem with preferences file pointing to the wrong location. Unfortunately you will need to re-enter your preferences settings for this release.
1.0.3 (5/16/19) Misc fixes including spaces in merge folder issue, added corrupted video information- missing or file size, added link to home page for instructions
1.0.2 (5/10/19) Bug fixes
1.0.1 (5/09/19) Major new features: Archive, optional drive scanning for removable drives, browse for video folder, video merge creation with Erik Hendrix's Tesla_Dashcam integration, improved error handling, many bug fixes, Automatic checking for updates, preferences window with many options, Saving startup position of the program on exit, Skip to previous and next video groups
0.1.0 (5/2/19) First release