Screen Images
Game Entry Screen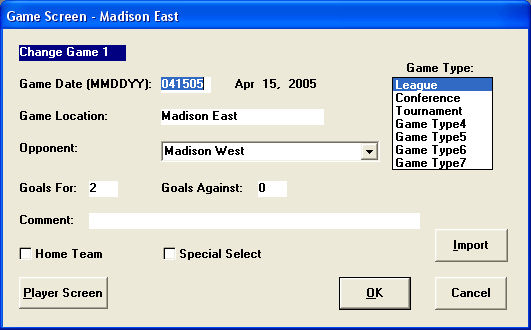 The first step in adding a game is updating game information on the Game Entry Screen. Entering information is optional (except game type). Game Types are used for computing reports.Click OK to update game results. When adding or inserting a game, clicking OK will automatically take you to the Player Screen.

If you are tracking statistics or standings for two teams that played each other, you don't need to enter the same Game Screen information for both teams. Add the game for one team first. Then on the Game Screen for the other team select the opponent from the Drop Down List Box and then click Import to initialize the game information from what was entered for the other team.
Player Statistics Entry Screen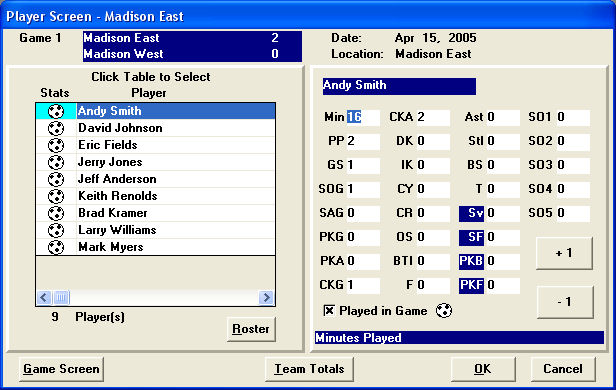 The Player Entry Screen is where individual player results and opponent results are entered. Entering player results is optional. Click on the Player Table to select a player to update. The soccer ball icon shows results have been added for the player.

When entering player results you can record results for up to five Name Your Own categories. These category names can be changed by selecting Name Your Own from the Options Menu.
Player Statistics Report Screen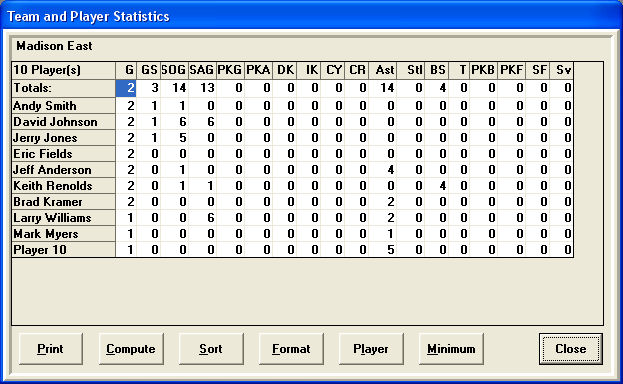 Select Players from the Reports Menu to display team and player statistics. The reports will show players from one or more teams depending on the number of teams selected.

To view career statistics for a player, select two or more teams and then bring up the Team and Player Statistics Report. Then click Compute and enter a player's name or number and click OK. The report will display a statistics line for each team the player appeared in as well as a total line.
Player Statistics Report Compute Screen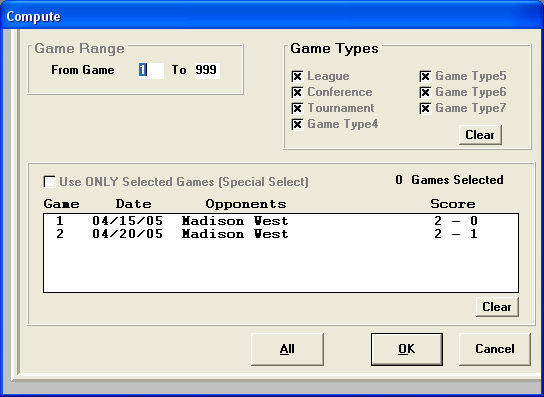 From ALL StatTrak reports, you can click Compute to recompute the report by selecting game ranges or game type.

Career Statistics - Enter player name or number to compute career statistics. Only available from the Team and Player Statistics Report when two or more teams are selected.
Name Categories and Game Types Screen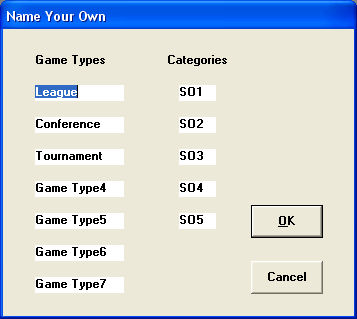 Select Name Your Own from the Options Menu to name game types and additional categories.

With StatTrak every game is assigned a game type. With Name Your Own you can name up to 7 game types.

You can also name up to 5 additional categories. To track diving saves, you could name a category DS and then record results under that heading when adding player results. Then by selecting DS on the Format Screen, you could add diving saves to the Team and Player Report.
Team Standings Report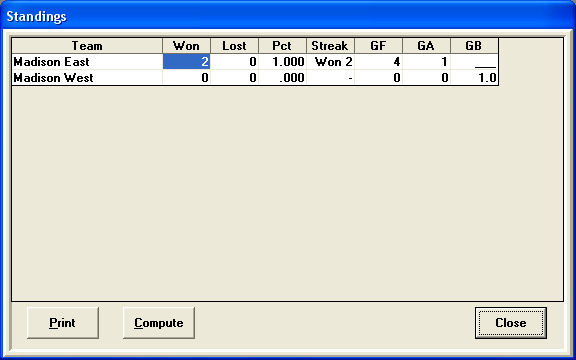 Select Standings from the Reports Menu to display team standings. The report is only available if two or more teams were selected.

Teams are listed in order of winning percentage. Goals for are the goals scored by a team and goals against are the goals allowed by a team. A column for ties will only be displayed if ties exist. Streak is the latest consecutive number of wins or losses by a team. Win Percentage is computed as ((wins + ties) / total games) where wins are 1 point, ties are 1/2 point, losses are 0 points, and total games are 1 point per game.

Click Compute to compute the report for different games.